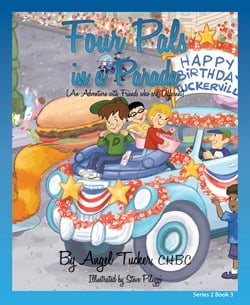 Four Pals in a Parade (Hard Cover)
$10.00
Four Pals in a Parade highlights Summer who is sweet, caring, and a little indecisive! Join the Four Pals as they get to be part of a parade to celebrate the birthday of their town, Tuckerville! See how each of the pals approaches this surprise differently and how they can all be friends even if they are different from each other!
The "Four Pals" series of books is designed to have 1 book in each series that highlights each of the four different personality styles. This is the third book in the 2nd series. The focus of this book is on Summer – the Supportive "S" type personality. Come join David, Iris, Summer and Charlie as they have a fun at the aquarium.
This book is hard cover and 8 x 10 in size.